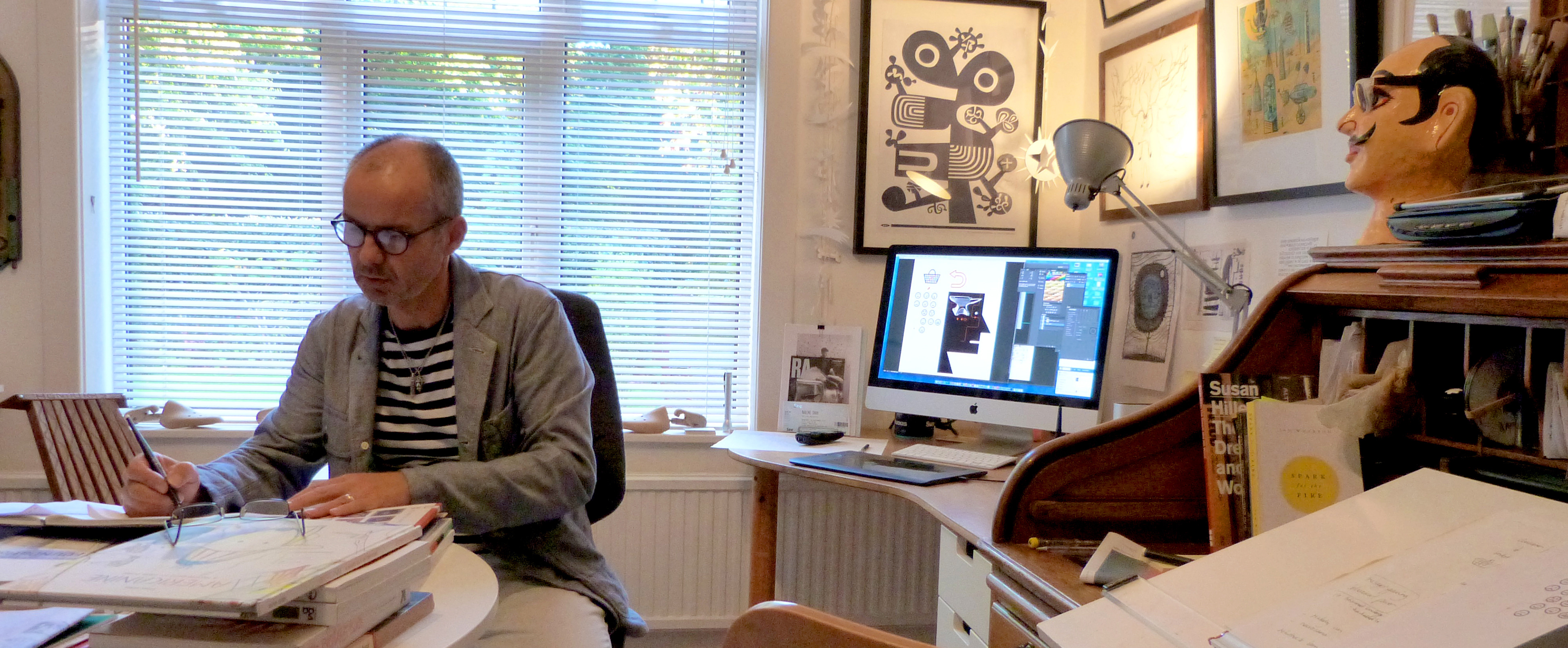 I am an illustrator, I make pictures from words and observation. I work with drawing, collage, photography, print and digital media.
I am an Illustrator with a practice stretching back over 25 years prior to rejoining the academic life as a senior lecturer at Manchester School of Art in 2014. I have been a contributor to MMU over a number of years as both a sessional lecturer and invited guest speaker. I recently became a Fellow of the Higher Education Academy (FHEA).
I have a key role in promoting the student ambition through a range of external engagement colaboration's  These projects are connected to the city, it's heritage, stories and environment resulting in opportunities which provide valuable experience for the students and increased visibility for the illustration programme and Manchester School of Art across the city. As part of my role I have taken responsibility for raising the national profile of the course through participation in the graduate showcase at New Designers in 2016 and 2017.  Since 2015 I have also been developing social media accounts for the programme and developing an alumni/practice blog to promote wider awareness of graduate achievement and to promote engagement with broader practice related areas of research on the course. In 2015 I was nominated by 3 x3 International Magazine of Contemporary Illustration, NY, USA as educator of the year and profiled in an extended interview in the 3x3 magazine.
During my freelance career I received professional recognition with a number of Gold, Silver and Bronze Association of Illustrator Awards for commissions in the UK and abroad. Primarily based in the publishing and editorial field, my practice has previously been a regular fixture in The Guardian, Telegraph and Times newspapers and featured in The Economist, Wall Street Journal and numerous other magazines and publications. 
In 1999/2001 a large body of work was commissioned as part of a two year advertising campaign for Powergen PLC including site specific applications of artwork on London Underground, Heathrow and East Midlands airports and as Taxi Wraps in the City of London. This also generated a series of short collaborative animations for TV working with Picasso Pictures/Damian Gascoigne. I remain a career long member and supporter of The Association of Illustrators in the UK.
Commissioned work has also been underpinned by a commitment to collaboration with community projects centred around design applications for the performing arts and local theatre, design ing posters, publications and theatre sets as part of thee roles.
I have been a career long contributor to and supporter of the study of Illustration in the UK and have given numerous guest lectures and delivered sessional programmes on a range of undergraduate courses across the UK, Including Falmouth School of Art, University of the West of England, Bristol, The University of Derby, Huddersfield University, Stockport College and Sheffield Hallam University. 
I have previously been an active member of 'Inspiring the Future' which develops links between practitioner, schools and colleges, based on raising the awareness and understanding of pathways into careers in the art and design field.
Recent work has been focused on developing work based on the stories and history of East Cheshire and the Peak District with an exhibition in 2017 at the RCA Conwy as part of a group show curated by Clive Hicks-Jenkins called - 'Imagined Realms'.